Juneteenth is rapidly approaching, and plans for celebrations are already underway. If you're looking for a fun, free, and community-centered way to spend this important holiday, look no further than here in Mercer County for some of the region's biggest and best festivities.
On Saturday, June 17th, all are invited to Mercer County Park for this year's Juneteenth celebrations. Back and better than ever, this fun and free event promises to be an unforgettable evening for every family member. The event will kick off at noon at the Mercer County Park Festival Grounds at 1638 Old Trenton Rd., West Windsor Township, NJ 08550. The African American Cultural Collaborative of Mercer County and the Mercer County Parks Commission have been working non-stop to bring this event to life. Now is your chance to participate in one of the community's most anticipated events.
This year's festivities feature a whole host of performing artists and featured guests, including:
Everette Harp
Alex Bugnon
The Heart of Jazz
Donald "Wiz" Davis
Pablo Perez, "El Alcade de la Salsa"
And so much more! Your host for the evening will be Wendy Hicks, an artist and entrepreneur. In addition to this impressive lineup of entertainment, guests can enjoy displays of culture, shopping, and dining from great local establishments. They will have the opportunity to connect with local authors and non-profits. With a mission to be "more than a festival," 2023's Juneteenth celebrations will undoubtedly be a unifying and empowering evening for all who attend.
Juneteenth is a federal holiday celebrating the emancipation of enslaved people in the United States. The holiday's moniker, a mix of "June" and "nineteenth," commemorates the historic day of June 19th, 1865, when the proclamation freeing enslaved people in Texas was officially given. Celebrations of the holiday can include several commemorative activities, including community events and festivals, readings of the Emancipation Proclamation, and the singing of traditional hymns. The holiday is a wonderful opportunity to celebrate liberation, connect with other community members, and educate the next generation on the importance of this historic day.
This event is a thoughtful collaboration between The African American Cultural Collaborative of Mercer County (TAACC), the NJ Legislative District 15 (Senator Shirley Turner, Assemblywoman Verlina Reynolds Jackson, and Assemblyman Anthony Verrelli), the Mercer County Park Commission, and Outdoor Equity Alliance. Together, the organizers have been working tirelessly to plan an event that is not only fun but speaks to the heart of the wants and needs of the community. TAACC seeks to "Educate, Empower, and Unite Africans in the diaspora through cultural arts, health and wellness, entertainment, and sports through this and another impactful programming." With this year's upcoming Juneteenth celebrations, the Collaborative hopes to highlight the current issues and conversations of the community through displays of culture, collaboration, commerce, unity, and education.
If you would like to learn more about the upcoming Juneteenth celebration or find out more regarding how you can be a vendor/volunteer, please visit the TAACC website here: TAACC – Juneteenth. The season's most significant celebration is almost here, so be sure you and your family are part of the fun!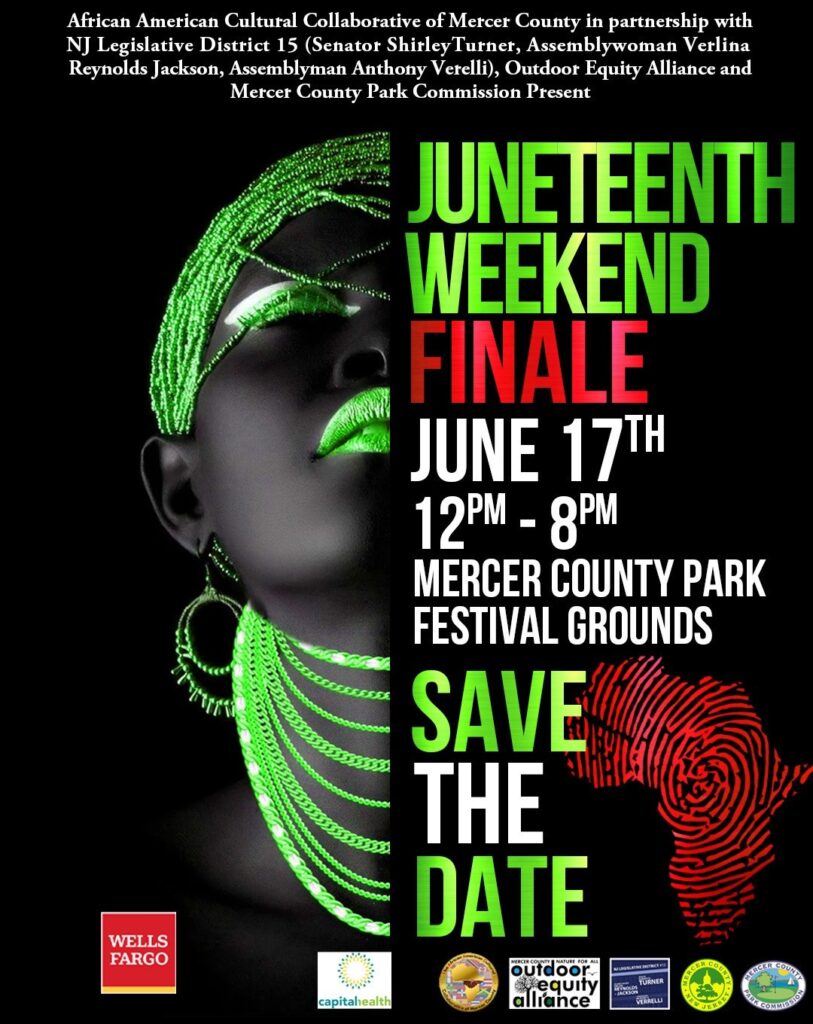 About Author